Inside Bay Village Schools April 2017
Mobile users, opt for
WEBSITE VIEW to see photos.
Our monthly news roundup ...
---
Recognized as one of the best in the country since 2003 . . .


Bay Village Schools is a Best Music Education Community in 2017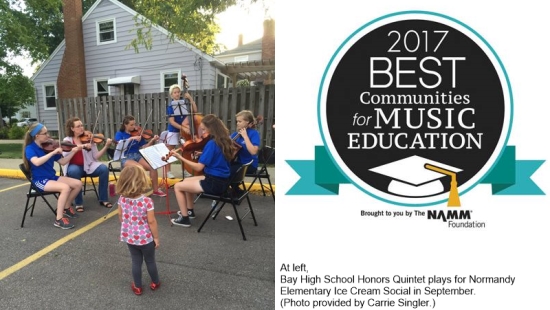 The Bay Village City School District continues to be named, in 2017, to the prestigious NAMM Foundation Best Communities for Music Education list, a designation it has earned for its exemplary music program each year since 2003. Read more HERE.
---

Parents and experts address addiction and mental health issues

Too many funerals of beloved Bay Village graduates dying from drug overdose and suicide drove three, heart-wrenching presentations to students at Bay High and Bay Middle School, and to parents, on Wednesday, April 12.

"I have attended 15 funerals for former students over the past 16 years," said an emotional Sean McAndrews, Bay Middle School principal. "I can't stand it anymore." He noted that in Cuyahoga County, we are losing almost one person a day to heroin or opioid overdoses, with 60 people dying from those causes in February of this year alone. [Read on, and find video links, in the Westlake Bay Villager Observer story.]


Amy Fritz tells audiences about her son, Russell Brill, and his struggle with addiction.
---
Bay High Key Club, Bay Middle School Builder's Club, work to provide clean water
Bay Middle School earned the district's Thirst Project Challenge Trophy! BMS won a friendly competition (between Bay High, Bay Middle and Westerly) that ultimately raised $9,000 to provide clean water for a community

in Swaziland, a small country in southern Africa. Wells that filter water are provided

as part of Thirst Project.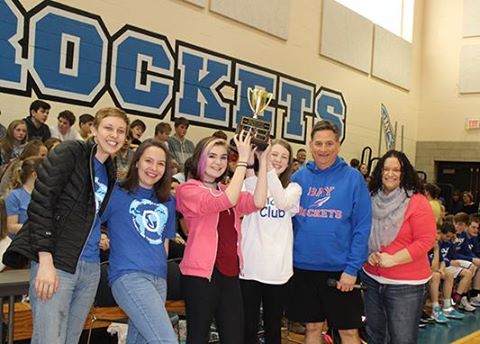 Pictured left-to-right: Bay High School Key Club President, Nick Loufman and Thirst Project Chairperson Laura Colagiovanni, Bay Middle School Builder's Club officers Sarah Puterbaugh and Sierra Hoffman, BMS Principal Sean McAndrews and Builder's Club Advisor Zorana Levi.
---
College signings at Bay High School
Bay High XC athletes pictured below on their signing day! Left-to-right: Jamie Dailey (track and cross country) to John Carroll University; Amanda Cusimano (track and cross country) to Xavier Univerisity; and Aedan Lang (cross country) to Heidelberg. Congratulations to these athletes, their families, teammates and coaches!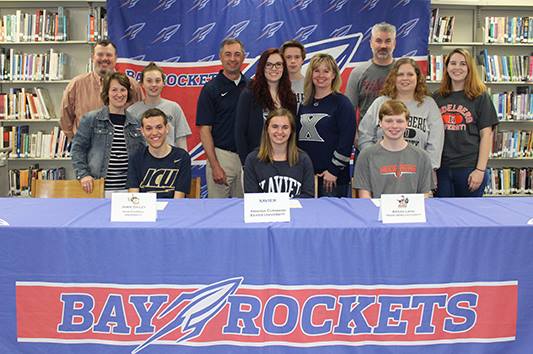 ---
Bay Schools staff stepping up to better health
16 MILLION, 774 THOUSAND, and 809 STEPS! That's how many steps 72 Bay Village Schools employees reported during our employee Step Challenge over a four-week period this past month. This very competitive group set a great and healthy example for everyone! First Place with a total of 611,944 steps went to Normandy's Sue Bish (pictured center, below). Pictured clockwise from top right: Normandy's Lindsay Rinehart at second place, Normandy's Beth Shiry at third place, and building/department winners Michelle Moore (Westerly), Danielle Garcia (central office), Robert Dougherty (Bay High), Karen Datko (Bay Middle), Ruth Saur (Glenview) and Russ Bauknecht (Transportation). Kristyn Webber, pictured with many of the winners, coordinated the event for our employee Wellness Committee.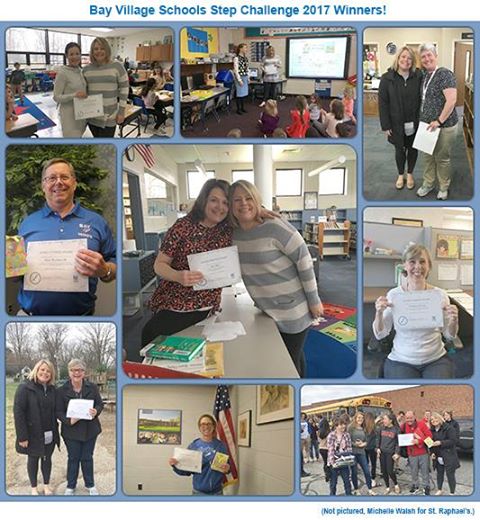 ---
Matt Spellman recognized for sportsmanship work
Congratulations to our Athletic and Activities Director, Matt Spellman. Matt received the Northeast Ohio Interscholastic Athletic Administration Association's Sportsmanship, Ethics & Integrity Award. Matt brought the Positive Coaching Alliance to Bay High three years ago to help build a positive, character-building athletic experience for our students. Student athletes, coaches and parents all learn to focus on positive reinforcement and making oneself, one's teammates and the game better and better, as well as winning.

Pictured left-to-right at the NEOIAAA awards banquet from Sunday, April 9, are Bay High Assistant Principal Aaron Ereditario, Superintendent Clint Keener, Matt Spellman and Bay High Principal Jason Martin.
---
Devon Gess is guest conductor for The Singing Angels!


Congratulations to Bay High Choral Director, Devon Gess. Devon was recently Guest Conductor for The Singing Angels Festival Chorus! Read more at: http://singingangels.org/festivalchorus/
---

Batter Up! . . .


Varsity Baseball Community Day is SaturdayVarsity Baseball Community Day Saturday April 29th from 8:45AM to 10:15AM. Any interested player can attend. Please RSVP to Coach Boka at . Please RSVP by April 26th. Walk ups will be welcome as well.



---
Annual Ballroom Blitz at Bay High - this weekend!


Kick up your heels and support our fabulous Music Program by attending the annual Ball Room Blitz, held this year at Bay High School on Saturday, April 29th. Tickets go on sale April 1! Purchase online at http:www.baymusicboosters.com or contact JULIE HARMS at .
---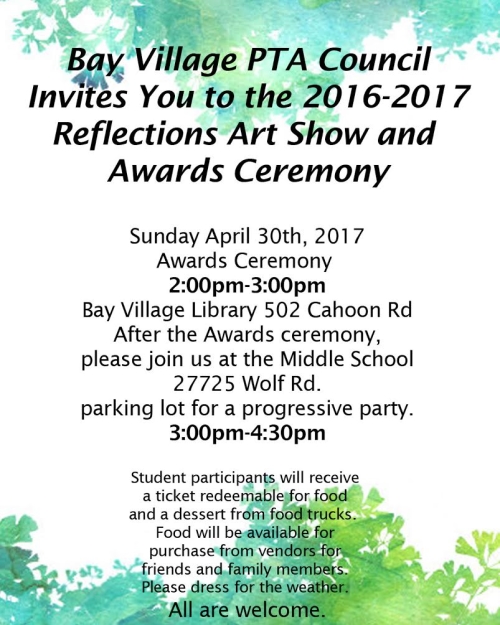 ---
Remember to check our
CALENDARS
regularly for school events.
---
Follow us on social media
for frequent updates and announcements.
And browse all our archived Inside Bay Village Schools HERE.
| | | |
| --- | --- | --- |
| | @BayAthletics | April, 2017 |
| @BayMiddleSchool | | |