Inside Bay Village Schools January 2017
Mobile users, opt for
WEBSITE VIEW to see photos.
Our monthly news roundup ...
Honoring Their Service. It was a great Military Appreciation Night (Friday night, January 20)

Bay High School thanked service men and women with

a special color guard pregame ceremony and the wearing of camouflage.

---

Mental Health Awareness Night
Wednesday, January 25, 7 p.m.
at Bay High School
Come hear, learn, and ask questions about depression, anxiety and other challenges facing young people from a panel of experts.

---

Science in action . . .


Augmented Reality sandbox enhances study of topography and more
Here is a new twist on technology at our middle school: a digitally-enhanced sandbox that creates a topographical map.
Here's how it works -- a projector beams different colors onto reflective sand that correspond to varying altitudes on a map. As students build up areas of sand, or smooth them down, the colors change. Students can also make it "rain" by holding their hands over an area and watching how that affects the earth's surface.
Eighth-grade science teachers Anne Budzik and Camille Sheehan helped build it, then created lesson plans for its use. They created it as part of a workshop at the Lorain County Educational Service Center's Nort2H (Northern Ohio Research, Training & Technology Hub), a consortium of school districts in Northeast Ohio.
Read more coverage in the Sun News and cleveland.com.
---

Dozens of awards in Regional Scholastic Art & Writing competition for Bay Village Schools students


Gold Key winnters from Bay High (top, left-to-right): Bay High seniors Alexandra Hoffman (ceramics and glass, Cubed) and Mia Russell (painting, Identity); juniors Abby Coe (painting, Self Portrait), Danielle Cooke (painting, Self Portrait), Maria DiLallo (painting, Javari), Allie Maust (painting, Monochromatic Appliances), and Christine O'Hare (photography, Abandoned Ohio); sophomore Olivia Reed (painting, Oscar); from Bay Middle School (inset), eighth-grader Kayla Poling (printmaking, Other Side of the Road). Gold Key art moves on to New York City for judging at the national level.

Top awards in visual arts and writing, 41 in all, went to Bay High School and Bay Middle School students in the 2017 Regional Scholastic Art & Writing Awards competition for Cuyahoga County taking place at the Cleveland Institute of Art.

Nine Gold Key awards in visual arts, ten Silver Key awards in visual arts and three Silver Key awards in writing, and 13 Honorable Mention awards in visual arts along with six Honorable Mention awards in writing, were amassed by Bay Village Schools students for their work from the 2015-16 academic year. [Read more ...]
---

Maria DiLallo received Cleveland Institute of Art Recognition Award

In addition to receiving a Gold Key Award for her painting, Javari, Maria DiLallo walked away from the Scholastic Art & Writing competition with a special Recognition Award from the Cleveland institute of Art. The award is a $10,000 annual scholarship, should Maria elect to attend CIT.
---

Adam Krueger to play tennis at Vassar
Congratulations Bay High senior Adam Krueger, who signed his letter of intent to play tennis at Vassar College in Poughkeepsie, NY next year. Read more at Bay Athletics.
---

Kindergarten Information Meeting, Registration, Screening 2017

Bay Village parents of children who will be five years of age on or before August 1, 2017 are asked to attend a Kindergarten Information Meeting at Normandy Elementary on Thursday,
March 2 to begin the Kindergarten enrollment process for the fall of 2017.

Read details HERE.
---

Normandy Elementary 2nd-graders raise funds to save whales, dolphins and wolves
Students in Mrs. Kinkelaar's, Mrs. Donohue's and Mrs. Evan's second-grade classes had a bake sale. The funds go to help protect some endangered species. The project was part of their life sciences studies. [Video]

---

Chipotle Fundraiser Wed., February 1 for Key Club Thirst Project . . .
Help Bay High Key Club end the global water crisis! You can contribute to Thirst Project Week by planning to eat at the Crocker Park Chipotle on Wednesday, February 1, 4-8 p.m. Save this flyer to your phone, or print it, and show it at Chipotle when you order. Fifty percent of the proceeds earned will help build hand pump borehole wells, biosand water filters and apring protection and rainwaer catchment systems when needed in seven countries: Swaziland, India, Uganda, Ethiopia, El Salvador, Kenya and Colombia. The $6,250 goal will provide a lifetime of fresh water to 250 individuals
Congratulations Gayatry Jacob-Mosier, elected
2017 Board of Education president,
and Steve Lee elected 2017 Vice President
School Board Appreciation Month . . .


Westerly students thank our school board
Our school board members put in many hours of work before making critical and informed decisions that affect our students, our staff and our community. They are in a position where it is impossible to please everyone all the time, but they operate on the philosophy of "students first." Fourth-graders Jacob Dwyer, Sean Kraft, Maya Holmes and Marina Beigi, all members of Mrs. Kelli McMaugh's class, took time to thank board members in honor of School Board Appreciation Month. Thank you Amy Huntley, Gayatry Jacob-Mosier, Beth Lally, Steve Lee and Lisa Priemer!




Bay Village Board of Education members pictured, left-to-right: Steve Lee, Lisa Priemer, Beth Lally, Amy Huntley and Gayatry Jacob-Mosier.

---
---
Ohio Scholastic Soccer Coaches Association
honors three from Bay High School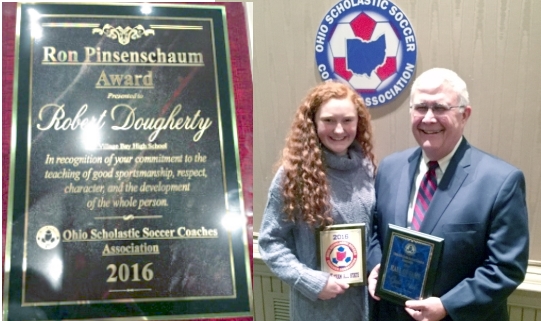 Congratulations to Bay High honorees at January's Ohio Scholastic Soccer Coaches Association Banquet. Receiving All-State Honors: Robert Dougherty (Bay High Boys Soccer Coach) for the Ron Pinsenschauem Award, Ohio's highest soccer coaching honor; senior Maddie Holmes (above left) named to OSSCA's 2016 Girls Division II First Team; and former Bay High Girls Soccer Coach Gale Fisk (above right), who led our girls soccer team to state championships in 1999 and 2002, was inducted into the OSSCA Hall of Fame!
---

Bay High Citrus Sale orders due Monday, February 27
High quality navel oranges, gala apples and grapefruit at a great price! Proceeds benefit the wonderful work of our Bay High School PTSA. Order by February 27; pick up at Bay High 9 a.m. to noon on Saturday, March 4. Find more information on the order form. [Bay High PTA Citrus Sale Form]

---

The Crew is recognized in Destination Imagination Annual Report
Our Destination Imagination team, The Crew, placed first in the world, elementary level, at the DI Global Finals last year. (Bay Village Schools had four teams compete at the global level.) Further recognition went to The Crew for the fifth-graders' service project in the Destination Imagination Annual Report! Read the feature on The Crew, the only U.S. Team so honored, here.
---
---
Remember to check our
CALENDARS
regularly for school events.
---
Follow us on social media
for frequent updates and announcements.
And browse all our archived Inside Bay Village Schools HERE.
| | | |
| --- | --- | --- |
| | @BayAthletics | January, 2017 |
| @BayMiddleSchool | | |