Inside Bay Village Schools December 2016
Mobile users, opt for
WEBSITE VIEW to see photos.
Our monthly news roundup ...
Fourth-graders give warmth for the holidays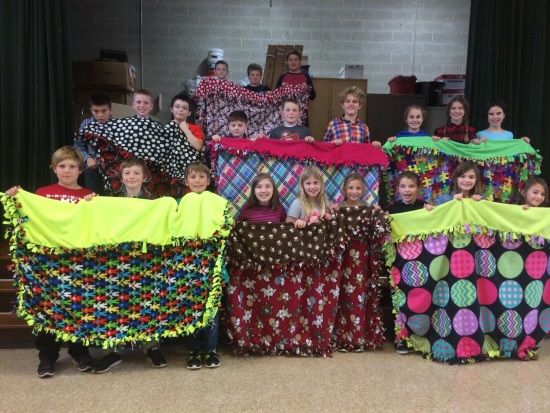 There was a new twist to this year's Blanket Project, an annual service project by Mrs. Woodburn and Mrs. Mahall's fourth-grade class at Westerly Elementary. In order to make enough of the warm, fuzzy and comforting blankets for Urban Community School students, the teachers enlisted the help of the Bethesda On The Bay congregation. Fourth-grade students created 15 blankets at Westerly, and more than 75 adult church volunteers made an additional 26 blankets after their Sunday service! The fourth-graders took all the gifts on a bus to the school Thursday, December 1, presented three skits to the student audience, and distributed the blankets. As the children receiving the blankets wrapped themselves in the physical warmth provided, everyone basked in the warmth of giving and generosity! Read more in the Westlake Bay Village Observer.
---
---

The essence of sportsmanship . . .


Jack Lee wins prestigious Positive Coaching Alliance Scholarship
Congratulations to Bay High School senior, Jack Lee, for receiving the 2016 Positive Coaching Alliance Triple-Impact Competitor Scholarship! Jack was one of five student-athletes from the Cleveland Chapter of PCA and one of only sixty-five student-athletes in the country to receive this scholarship.Find more information in PCA's media release.
---

Normandy Elementary "mystery readers" emphasize reading's importance
Mystery readers are a fun way to keep students engaged in reading, demonstrate how important reading is, and give opportunities to grownups to spend meaningful time in school with students. Thank you to all the dedicated adults (only some of them pictured here) who take part of their day to be mystery readers at Normandy Elementary School!

(At right, Superintendent Clint Keener with students.)

Board of Education members Gayatry-Jacob Mosier and Amy Huntley with students.


Board of Education member Steve Lee and daughter
Marissa (Class of 2015) with students.



Board of Education members Beth Lally and Lisa Priemer with students




Normandy parent and district maintenance staff member Kevin Egan with students.
---

McKenna Manderine at Macy's Thanksgiving Day Parade . . .




It was the experience of a lifetime for eighth-grade cheerleader McKenna Manderine who marched in Macy's Thanksgiving Day Parade with Spirit of America Productions.

Westlife Newspaper's Jeff Gallatin talked with McKenna, her cheerleading coach Helen Goldberg, and her parents, Rick and Erin Manderine, about the experience.

Read the Westlife article HERE.
---

Michael Showalter will play college lacrosse . . .
Congratulations to Bay High senior Michael Showalter who will play lacrosse at Alma College in Michigan next year! Michael is pictured with his parents, Mike and Libby Showalter (front row), friend Michelle and brother Max. Michael plans to major in business administration.
---
Key Clubbers have boundless energy for service projects . . .
From Christmas tree sales, to warm blankets, to red kettle collections and so much more, Bay High Key Club never seems to stop in its quest to make a difference in the lives of others.
In August, Key Clubbers volunteered at the Prayers from Maria Foundation" sunflower field in Avon to raise awareness and funds for a rare brain cancer that took the life of 7-year-old Maria McNamara of Avon Lake.
They helped at at Bay Village's "Touch a Truck" and "Play in Bay" events, Cleveland's American Heart Association Heart Walk, Bay Kiwanis Pancake Breakfast, and, with the help of the new K-Kids group they helped form at Westerly, raised a record breaking $406.63 for Trick or Treat for UNICEF.
As winter weather revealed itself, Key Clubbers made warm blankets for Providence House, worked the Kiwanis Christmas Tree lot, raked leaves for those in need, helped at Breakfast with Santa, and manned the kettles for Salvation Army!
This year, Bay High Key Club boasts 155 members! Adviser Anita Baukneckt is rightly proud of the group. "They are amazing," she said, noting the group has, over the past five years, raised $18,030 for the Kiwanis International Eliminate Project, saving 10,017 mothers and their future children from maternal & neonatal tetanus!
---
Learning about the big, wide world . . .
Bay High Model UN joins 400 NE Ohio students for debates
Thirty-one Bay High students took part in Cleveland Council on World Affairs Winter Model UN Conference held at Lorain County Community College Friday and Saturday, December 2-3.
They were part of a group of 400 Northeast Ohio students who take on the roles of foreign diplomats who research solutions to pressing global problems and then debate and vote on solutions. Participants must recognize different perspectives, communicate ideas to diverse audiences, and through the evidence of their research, attempt to influence others toward constructive solutions to the world's thorniest problems.
"Three members of our leadership team -- Anna Walker, Emma Legeay and Danielle Cook -- served as chairs for various committees, a vaulted


position offered only to those with strong leadership, organization and presentation skills," reports club advisor and parent David Adams.
"Our student leadership council does all the recruiting, planning and organizing, and has made the club very successful," he adds.
---
Spreading joy throughout our school district . . .
Student vocalist and musicians spread holiday caroling cheer
It is a school district tradition that begins the week before holiday break and reminds everyone that the holidays are to celebrate joy and gratitude.
Children's voices ring throughout the district as carolers visit classmates, other buildings and community meeting places.
This year, Bay High's A Capella Choir, directed by Devon Gess, performed for residents of St. Mary's of the Woods. Our Bay Middle School Chamber Choir, directed by Heidi Herczeg, will entertain and inspire resident's of the Bay Village Knickerbocker apartments. And always a highlight, our Bay High instrumental carolers, full of talented and raucous good cheer, directed by Darren Allen and Carrie Singler, add the Knickerbocker to their regular rounds throughout our school buildings. Now THIS is what the holidays are about!


The Bay Middle School Chamber Choir.


Let the caroling begin! Board office staff is treated to Normandy Elementary carolers - they practiced reading the words they now sing!

Knickerbocker residents loved our BMS singers!

Bay High Instrumentalists spread holiday cheer.


Choraleers at the board office.

---
S.E.E.D. program accepting preschool applications for typical peers

Read more about our SEED program

HERE

.

Do you have a preschooler? Are you looking for a high-quality, unique and affordable experience starting next fall? Consider having your child become a typical peer in our SEED program for preschoolers with developmental delays. Peer models learn empathy and leadership skills along with play and age-appropriate academic skills. Classes are taught by certificated teachers and are held Monday through Thursday, 9-11:30 a.m. or 12:15-2:45 p.m. The cost is currently $550 for the school year; any increase in next year's rates will be announced in the spring. If interested, call Dianne at 440-617-7322 before slots start filling up! Screenings will begin in December.
---
Bay High Hockey invites you: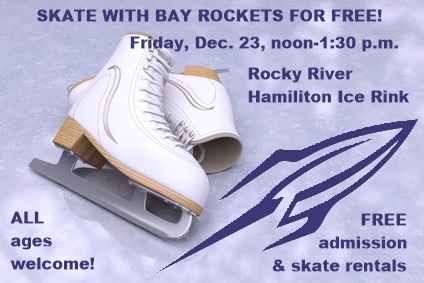 ---
---
Winter break is a great time to talk with your children about internet safety!
Here is a presentation made to parents by Det. Kevin Krolkosky of BVPD: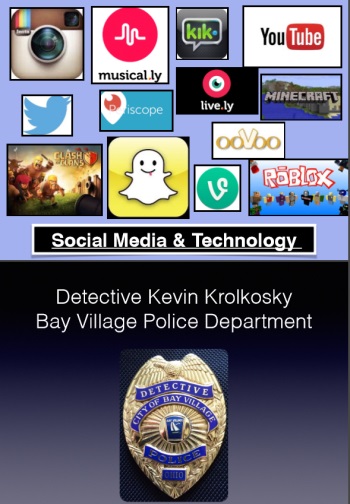 Remember to check our
CALENDARS
regularly for school events.
---
Follow us on social medial
for frequent updates and announcements.
And browse all our archived Inside Bay Village Schools HERE.
| | | |
| --- | --- | --- |
| | @BayAthletics | December, 2016 |
| @BayMiddleSchool | | |